Daniel E. Stuntz Memorial Foundation
The Daniel E. Stuntz Memorial Foundation was established in 1985 by a group of friends, amateur mycologists and colleagues to honor the late Dr. Stuntz, Professor of Mycology, who taught at the University of Washington.
About Dr. Stuntz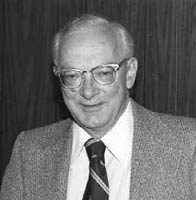 Daniel Elliot Stuntz was born on March 15, 1909 in Milford, Ohio. He received his B.S. degree from the University of Washington in 1935 and his Ph. D. from Yale in 1940. After 18 years of teaching, he was made Professor of Botany at the University of Washington, a position he kept until his death in 1983.
In addition to being a dedicated teacher of Botany and Mycology, his efforts helped establish the Herbarium at the University of Washington and his interest as bibliophile became a legacy of numerous rare books on Botany to the University. Indeed, his many interests as musician, composer and gourmand, as well as his devotion to sharing his knowledge, time and unending energy teaching mycology to students and the general public for forty years, inspired wide spread respect, affection and love. It is to honor such a man and his life's work that the Stuntz Foundation was established.
Objective
The Foundation's Objective is to provides financial support in the following areas:
Students of fungal systematics pursuing advanced degrees in the Pacific Northwest
Supplies and equipment for mycological research
Travel expenses to meetings and fieldwork
Amateur and professional mycological programs in the Pacific Northwest
Completion of cataloging and improvements to the Mycological Herbarium of the U.W.
During the last 7 years the Foundation has distributed over $68,000 in grants that support these goals while keeping expenses below 6% of that total.
Contact Information
Website:
www.stuntzfoundation.org
Email:
president@stuntzfoundation.org
Mailing address:
Daniel E. Stuntz Memorial Foundation
6518 Woodlawn Ave. N
Seattle WA 98103-5428