Research Projects
Our involvement in research is presently in two areas: first, our close association with the Daniel E. Stuntz Memorial Foundation, which aids students in pursuit of advanced mycological degrees and supports amateur and professional mycological programs in the Pacific Northwest; secondly, members of our society participate in various university and Forest Service research projects. The following are programs which we have been involved in or are continuing presently.
Survey & Distribution of Boletes in Washington State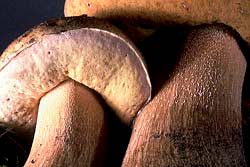 In past years, PSMS was involved in ongoing research project on the genus Boletus. The goals of the Bolete Study were primarily to :
Determine the bolete flora and their distribution in the state of Washington.
Develop an on-line key to aid in identification.
Develop a database to inventory Boletus at the University of Washington Herbarium (WTU).
Explore & disseminate further information on the culinary possibilities of boletes
See photos from this study.
View a bibliography for this study.
For more information email Brandon Matheny, coordinator of the study.
MAB Mushroom Study
Six articles are based on a 3 year, interdisciplinary study looking at socio and biological aspects of chanterelle mushroom harvesting on the Olympic Peninsula in Washington State in the United States. They were promulgated in Ambio: The Journal of the Human Environment, Special Report No. 9, 1998, which is published by the Royal Swedish Academy of Sciences, Stockholm.
Barlow Pass Fungi Study
A preliminary report on fungi from Barlow Pass, Washington (Ammirati, J.F., et al. McIlvainea. 1994. 11(2): pp. 10-33). PSMS members performed the bulk of collecting over a period of two years on nearly a weekly basis. This study represents the most complete list of fungi available for silver fir/western hemlock forests. Additionally, the study revealed several new taxa (not recorded in the paper) and extended the geographical range for a large number of taxa.
The Morel Study
The Morel Study (1972-84) was a project to determine the extent of various morel species in Washington State. Dr. Alexander Smith of the University of Michigan concieved the idea while out on a visit and the project was taken up by numerous PSMS members including Joy Spurr, George Rafanelli and Carl Hermanson. Margaret Dilly chaired the group under the supervision of Dr. Stuntz, until his death.
During the 12 years, over 500 specimens of morels were collected, evaluated and dried. The study was never published; however the rough data was given to Nancy Smith Webber with the Oregon State University, while the dried specimens were deposited at the UW Herbarium. The essential conclusion was that there are 6 species of morels in Washington State: elata, esculenta, semilibera, deliciosa, crassipes.