Wild Mushroom Recipes
Recipes from Mushroom Maynia!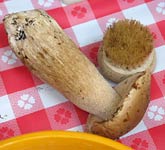 The Burke Museum, Daniel E. Stuntz Memorial Foundation and PSMS hosted the first Mushroom Maynia! Day at the Burke Museum of the University of Washington on Sunday, May 4, 2008. This was a family oriented event to raise awarness of the fungi in our lives and world. The one day event included demonstrations of how to cultivate your own mushrooms, cook them into a tasty soup, or make them into dyes and crayons; as well as activities for children and adults. Below are two recipes from the event.
Recipes by Kathy Casey
Kathy Casey's culinary innovations have been recognized since Food & Wine named her as one of the "hot new American chefs" earlier in her career. She owns Kathy Casey Food Studios®, a consulting and special events venue, and co-owns Dish D'Lish™ in Ballard and the Sea-Tac Airport with husband John Casey. www.kathycasey.com
In demand as a speaker and writer, Kathy and her cuisine have been featured in many newspapers, magazines, and trade publications. She is a frequent guest on local and national TV shows and is an accomplished food writer, having authored Pacific Northwest: The Beautiful Cookbook (a Julia Child Cookbook Awards nominee), Dishing with Kathy Casey, Kathy Casey Cooks Favorites, and Kathy Casey's Northwest Table. She also writes the column, "Dishing," for the Seattle Times.
Additional Recipes
Additional recipes can be found in the PSMS Spore Prints newsletters.