Latest PSMS News
The Puget Sound Mycological Society is an ALL volunteer non-profit organization. PSMS does not have ANY employees.
Hildegard Hendrickson Free Public ID Clinic
The fall ID clinics are scheduled to begin Monday, Oct. 2 from 4pm to 7pm at CUH, and last through Mon. Nov 6. For more information click here. As this is subject to change, please re-visit our home page to make sure this message hasn't changed before coming.
2023 PSMS Annual Wild Mushroom show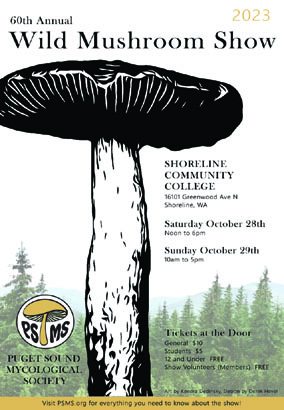 This year's show chairs Derek Hevel, Milton Tam, and Marion Richards are happy to announce our annual PSMS fall Wild Mushroom Show will be Oct. 28 (12-6 pm) and Oct. 29 (10 am-5 pm) at Shoreline Community College, 16101 Greenwood Avenue North, Shoreline, WA.
The show is our chance to share with the general public our knowledge of and enthusiasm for the fungal kingdom. Let's get ready to amaze the public with all the colors, shapes, and sizes of fungi we bring in for display.
We will also need YOUR mushroom specimens for our display tables. The strength of the mushroom season has yet to reveal itself, but we know it's an odd year with heat waves and drought. We don't know when the rains will arrive, but we're all crossing our fingers for a well-timed fruiting in order to put on the best show. We encourage you to self-organize for a collecting trip in the day or two before the show. Come mid-October, we strongly encourage members to forage far and wide to collect specimens wherever they can be found. As of now, experts have suggested collecting display specimens in the foothills of Mount Rainier, the Olympic Peninsula, and the Washington Coast. However it is impossible to predict when and where our mushrooms will flush. We encourage you to self-organize for a collecting trip in the day or two before the show, and bring your collections to Shoreline Friday around 5pm.
Our show page has all of the details.
PSMS Inclusivity Statement
For over fifty years, the Puget Sound Mycological Society (PSMS) has nurtured collaboration amongst its members for an understanding and appreciation of the wide diversity of mushroom species in the Pacific Northwest. We also depend on a diverse membership to support our mission to foster the understanding and appreciation of mycology as a hobby and a science. In recent months, as systematic inequality in U.S. society is revealed to a broader audience, it becomes clearer that inequality imposes barriers on marginalized groups to participation in a wide variety of activities. PSMS opposes all barriers that limit participation in mycology. PSMS and its board members support a more diverse, inclusive, and welcoming organization where all people, especially those who are underrepresented in our organization and society at large, can enjoy mushrooms and all of the activities associated with them. We realize this will be an on-going conversation and are looking to our members for suggestions on ways to increase diversity, inclusivity, and welcoming. Thank you as we join together to make this long-overdue journey toward systemic equality!
Featured Content
Spore Prints is the monthly newsletter of PSMS containing announcements of coming events and speakers, plus a variety of tidbits, trivia, recipes, and research developments.
Spore Prints Archive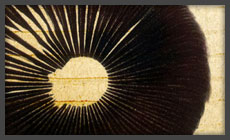 Washington state is divided into numerous federal, state, local and Native American jurisdictions. Learn the proper rules for each jurisdiction.
Harvesting Information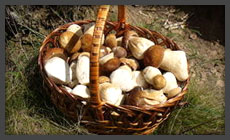 Upcoming Events
Tuesday, Oct. 10, 2023 - 7:30pm
Monthly Meeting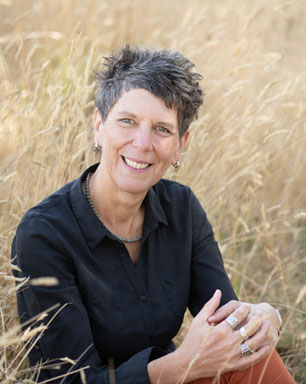 Alison Pouliot - Meetings with Remarkable Mushrooms
Click here to join this meeting virtually.
October, rain and dropping temperatures, this is a good sign for the mushroom season we are entering!!! Last year at this time the leaves on the ground were still crispy like potato chips. It's a good time to have a membership meeting and share our mushrooming experiences. The general membership meeting on October 10, 2023 will once again be a hybrid including both in-person and Zoom at the Center for Urban Horticulture at the University of Washington.
This month we will be welcoming Alison Pouliot who just happens to be in our area all the way from Down Under (Australia). Her trip to the Pacific Northwest is in part being sponsored by the Daniel E. Stuntz Foundation and is being hosted by Steve Trudell, our Scientific Advisor. So we want to thank the Stuntz Foundation and Steve for helping to make this opportunity available.
Alison Pouliot is an ecologist, author and professional environmental photographer with a focus on fungi. Her work spans both northern and southern hemispheres ensuring two autumns and a double dose of fungi each year. Alison is actively involved in teaching, research and conservation, and has conducted over 800 fungus forays across many countries. Alison is author of The Allure of Fungi, Wild Mushrooming, and Meeting with Remarkable Mushrooms. www.alisonpouliot.com
Alison's presentation is entitled "Meetings with Remarkable Mushrooms" which is also the title of her third book. In Alison's words: "Once overlooked in the Anglosphere, fungi are finally having their moment. Mycologists and mushroom seekers have always known their worth but these exhilarating new poster organisms have captured the public imagination." As with her latest book, we hope to hear about fungi from Australia to the Cascade Mountians in the Pacific Northwest. Elements of science, environmental interrelationships, aesthetics, indigenous wisdom and outstanding fungal photography will likely be presented. Join us to hear Alison share stories of her travels across hemispheres in search of fungi and their followers.