Annual Wild Mushroom Show
Sponsored by the Puget Sound Mycological Society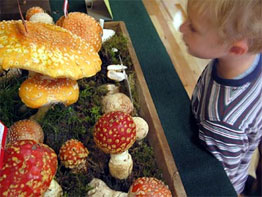 Our Wild Mushroom Show is one of the largest and most complete exhibits of mushrooms in the United States. Over 200 varieties of wild mushrooms will be displayed, identified, and classified as edible, poisonous, or valueless as food.
Visitors are welcome to bring in mushrooms from your garden or walks for our experts to identify. Be sure to collect the entire mushroom, including underground parts.
Exhibits will include something for all of the senses: A feel and smell display can be experienced after the slide show lecture and finished off by a delicious tasting of mushrooms prepared by some of Seattle's finest chefs. There are photography displays as well as a great selection of items for sale like mushroom field guides, cookbooks, t-shirts, and scientific materials for the serious mycologist. Visitors can discover facts about PSMS and obtain information about classes, field trips and other opportunities.
Dates & Location
The Annual PSMS Wild Mushroom Show occurs on a weekend in mid-October. Check back in the fall for up-to-date information, including our list of guests and speakers.
Program
Hundreds of species of freshly gathered local wild mushrooms.
Fresh specimens identified by name and displayed in a natural setting.
Mushroom Identification: bring your own.
Cooking Demonstrations featuring local chefs with samples to taste.
Books, field guides, posters and gifts.
Displays of mushroom cultivation, conservation, mushrooms & ecology, photography, and arts and crafts.
Scheduled lectures
Admission
$10 for General Admission
$5 for Students and Seniors
Children under 12 are free
Art Contest
A juried Art Exhibit is part of the Annual Wild Mushroom Show.
Art submitted may be in any media but must be of, or include, a mushroom or fungal motif, with enough realistic information to be identifiable to genus only. Further scientific information not required. Size of artwork and number accepted is limited by the small gallery area in which the work would be exhibited at the Annual Wild Mushroom Show.
Artwork must be your original and be completed within the last 3 years. No print reproductions will be accepted. No copies from copyrighted materials. This is NOT a photography exhibit.
Prizes will be awarded as follows: First place, $100 plus one-year membership in the society; Second place, $50 plus one-year membership in the society; Third place, one-year membership.
Further details and instructions on how to enter are included in the prospectus and entry form below. Entry deadline is September 1.
Download the Prospectus (MS Word Document)
Download the Entry Form (MS Word Document) – Due by September 1
Feel free to print out a flier for the art contest and post it in your community.
Download PSMS art contest flier (PDF)
Poster Gallery