Annual Wild Mushroom Show
Sponsored by the Puget Sound Mycological Society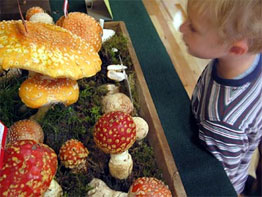 Our Wild Mushroom Show is one of the largest and most complete exhibits of mushrooms in the United States. Over 200 varieties of wild mushrooms will be displayed, identified, and classified as edible, poisonous, or valueless as food.
Visitors are welcome to bring in mushrooms from your garden or walks for our experts to identify. Be sure to collect the entire mushroom, including underground parts.
Exhibits will include something for all of the senses: A feel and smell display can be experienced after the slide show lecture and finished off by a delicious tasting of mushrooms prepared by some of Seattle's finest chefs. There are photography displays as well as a great selection of items for sale like mushroom field guides, cookbooks, t-shirts, and scientific materials for the serious mycologist. Visitors can discover facts about PSMS and obtain information about classes, field trips and other opportunities.
Dates & Location
Saturday, October 12, 2013 – 12pm - 7pm
Sunday, October 13, 2013 – 10am - 5pm
The Mountaineers
Magnuson Park
7700 Sandpoint Way NE,
Seattle, WA 98115
Program
Hundreds of species of freshly gathered local wild mushrooms.
Fresh specimens identified by name and displayed in a natural setting.
Mushroom Identification: bring your own.
Cooking Demonstrations featuring local chefs with samples to taste.
Books, field guides, posters and gifts.
Displays of mushroom cultivation, conservation, mushrooms & ecology, photography, and arts and crafts.
Scheduled lectures

Lectures - Saturday, October 12

1:00 PM Dr. Steve Trudell - Secrets of Forest Mushrooms

2:00 PM Dr. Bart Buyck - Can We Imagine a Life without Fungi ?

3:00 PM Noah Siegel - Common Edible and Poisonous Mushrooms of the Pacific Northwest.

4:00 PM Dr. Bart Buyck - No Fungi without Rain.

5:00 PM Dr. Denis Benjamin - Human uses of mushrooms; A brief ethno-mycological journey.

6:00 PM Daniel Winkler - Beloved Fungi Around the World.

Lectures - Sunday October 13

11:00 AM Marian Maxwell - The role of mushrooms in the ecosystem.

12 Noon Danny Miller - Mushroom Mythbusters, or Fungal Fables Debunked

1:00 PM Langdon Cook - Adventures on the Mushroom Trail

2:00 PM Daniel Winkler - Choice Edible Mushrooms of the Pacific Northwest.

3:00 PM Dr. Denis Benjamin - The Sociology of Mushroom Poisoning.

4:00 PM Noah Siegel - Under Pressure; Evolution Oddities in the Fungal World.
Admission
$10 for General Admission
$5 for Students and Seniors
Children under 12 are free
Poster Gallery